Freud and Dreams
(A Beginner's Guide to Freud's Method
of Dream Interpretation)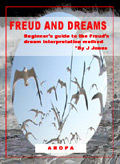 This is the ebook (PDF) version of our email course with the same title. The course itself deals with tthe dream interpretation method developed by Sigmund Freud.

Please note that this version is provided without home instructor's assistance, final quiz and bonus. If you need them too, please check the course version

instead here.

1. How did Freud Discover the Dream Interpretation Method
How everything started.
2. Children Dreams
Their specific and the way they may be dealt with.
3. Structure of Dreams
Dreams are produced by our mind in a sleeping state. This lesson depicts the psychic mechanism that leads to dream formation, according to Freud.
4. Dream Analysis
The specific of dream interpretation in Freud's view.
5. Sexual Dreams
Are all dreams sexual? This lesson talks about the dreams with sexual content and what they mean.
6. Symbols in Dreams
Most of the dreams's content is made of symbols. Several symbols are explained by Freud the way they appear in almost all human dreams.
7. Psychoanalysis and Dreams
Dream interpretation is the main method of exploration of the unconscious mind at Freud and psychoanalysis.
8. Freud and Dreams Today
What is the place of Freudian dream interpretation in the psychoanalytic world today.

Examples

9. Dreaming of Falling Teeth
The theme of the falling teeth approached through different methods including the Freudian one.
10. A Dream with a Sexual Content
Analysis of a dream with sexual content and a double meaning.
Ebook format:
PDF

Size:
128 Kb

Search inside
this ebook (click the links below)
page 4 | page 22 | page 31

Delivery:
By email

Price:
$5.95
through 2Checkout or PayPal and start reading today. Please click the Order Now button below and follow the instruction.

Note about your ebook delivery

The delivery is made shortly upon the confirmation of payment through email, as attachment. Usually it takes one single day to receive it.
HELP! If you need further assistance with this ebook please don't hesitate to contact J Jones at aropa@freudfile.org.