Psychoanalysis - Techniques and Practice
Guide for Authors
Thank you for your interest in publishing your paper on this site!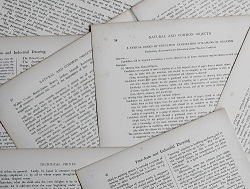 Please follow these simple rules when submitting your paper(s) to our review:
- Your paper should cover issues related to Freud and psychoanalysis;
- Your paper must include a short description of the subject approached;
- Your paper must by edited in Microsoft Word format RTF;
- Provide information about yourself, your interest in psychoanalysis and your former published papers (if any).
Remember, you must own the copyright of the paper submitted here.
Reviewing may take 2-4 weeks and is done by our psychoanalysis specialists. You will be notified by email if your paper was accepted or rejected.
Please send your paper to aropa@freudfile.org
Our Privacy Policy
We don't provide any information related to you or your work to third parties for spam intend. We don't collect your personal information and psychoanalytic expertise. If we publish your paper on our site(s) we ask your permission for publishing your presentation note (if any), which doesn't include your email address.